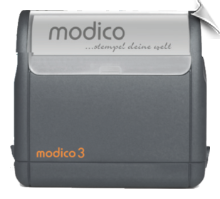 Click to enlarge image(s)
Rubber Stamp for Regular Office or Home use. Please choose size based on number of lines desired. Fill in only the lines desired in the Text lines by number.

Example - Ordering a Mod3 - You would fill out only Text Lines 1-3 and leave the others blank.

You also have an option to attach a file with the desired text and layout.
Pdf files are the preferred file type. If you are choosing to use an unusual font or have a logo please use this option.
| | |
| --- | --- |
| MOD2 | 7/16" x 1-7/16" |
| MOD3 | 9/16" x 1-15/16" |
| MOD4 | 13/16" x 2-1/4" |
| MOD5 | 15/16" x 2-1/2" |
| MOD6 | 1-5/16" x 2-1/2" |
| | |
| --- | --- |
| Razor Sharp detail | Small Text, Fine Lines, Images, Photos. Logos, Grayscales, Signatures. Up to 600 dpi High Definition |
| Eco Friendly | 100 % Emission Free, No dust, No Chemicals, No special waste. |
| Integrated Ink Pad | Up to 20,000 impressions, Guaranteed against drying for 7 Years, Easy Refill no need to touch ink pad |
| Secure | With indelible ink, Colors include Black, Blue,Red, Green and Violet are certified according to ISO standards 14145-2. For use for Notaries and Government offices. |